Manage league and team events, stay connected with coaches, volunteers, and teams, sell tickets to games, and offer team merch—all under your brand.
Your ticketing platform for free
As a coach or team manager, there is no cost to use Eventgroove! You have the option of rolling service and processing fees into the ticket price. At 2.0% + $0.50 per ticket, our service fees are among the lowest in the industry; integrated with Stripe payment processing, they will charge 2.9% + $0.30 per transaction.
An all-inclusive sports hub
Sell tickets and merchandise to fans, host hybrid and virtual events, live stream games, run fundraisers, and more from your team or league's virtual HQ.
Communication central. Make it easy for fans, athletes, and families to get game updates and schedules, banquet and awards ceremony information, and more. 
Game calendar widget. Keep everyone up to date with a customized, embeddable calendar widget that instantly updates when you make schedule changes. Learn more
Easy payment processing. Sell tickets and sponsorships as well as accept donations with seamless Stripe integration.
Make games accessible to everyone. Embed a live-stream video on your event page so fans can tune in online. Learn more
Socially distant seating. Configure a reserved seating layout to keep fans safe and comfortable while maximizing venue space.
Customized to your team or league. Hosted on a custom URL, your private-label website features your organization's logo, images, colors, and text.  It will be clear to fans, athletes, and supporters when they visit that they are interacting with your brand.
Brand management. Manage and update your team or league's branding on each event page and site-wide.
Consistency. Ensure cohesive branding across all your teams' event sites, regardless of location and date. Lock in logos and images while still enabling co-organizers to customize specifics to their event and venue.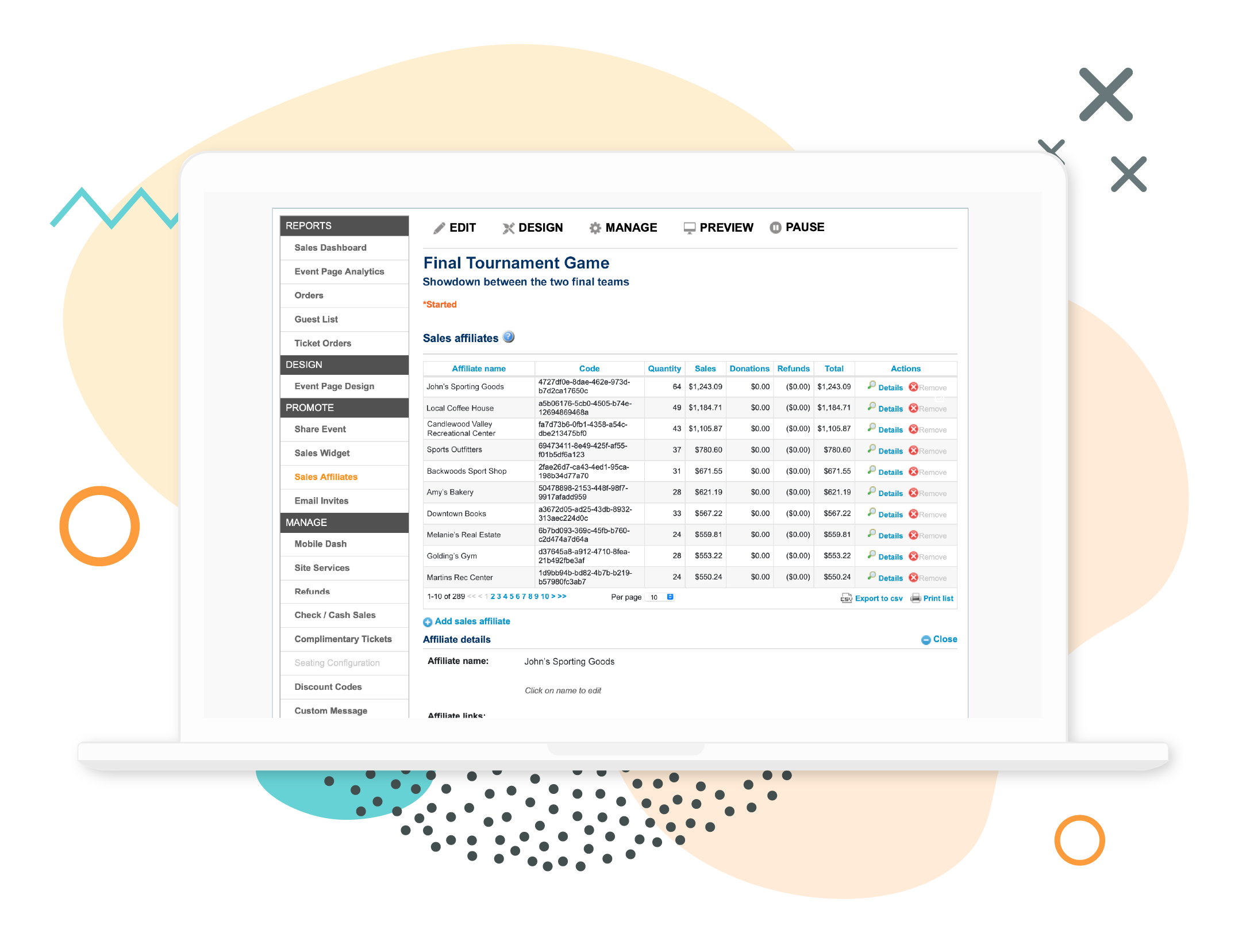 Affiliate tracking
Have promoters, volunteers, or businesses selling tickets? Track their sales, refunds, and even donations all in one place. Monitor marketing spend relative to ticket sales to ensure you're getting back what you put in. 
Affiliate links. Generate an affiliate link and then give it to individuals or organizations—it's as easy as that! Affiliates will then share their unique link within their network while Eventgroove automatically does all the tracking.
Unlimited talks. Track sponsorship sales, athletes' efforts, special promotions, or anything else. Create as many links as you like!
Detailed reporting. Get detailed reports and analytics on your affiliate ticket sales, down to the ticket buyer.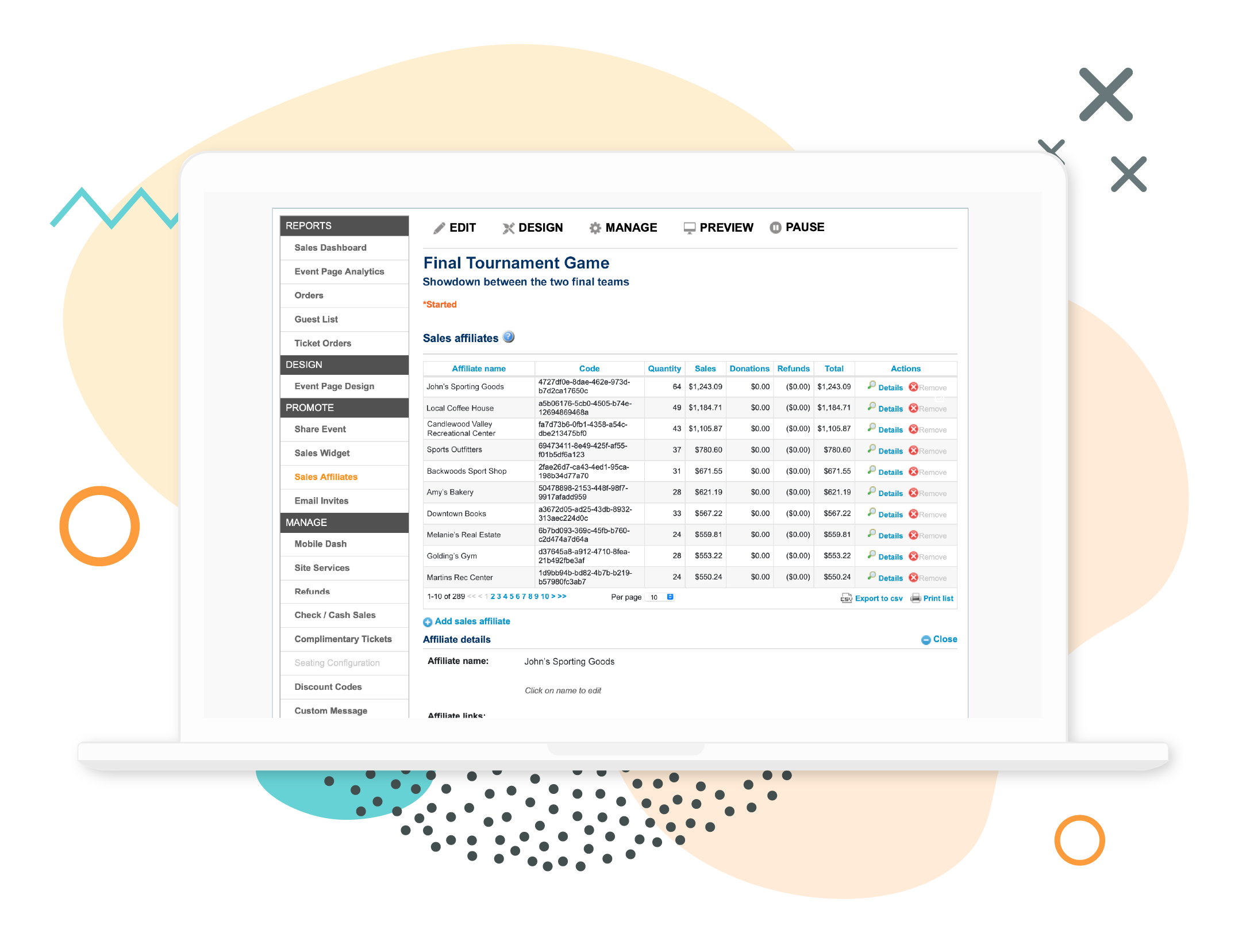 Reserved seating
Selling single-game tickets, tables of 8 at your annual banquet,  or VIP seating? Create a ticketing plan that suits your needs. 
VIP Status. Manage VIP sections and sell the best seats in the house at a premium.
Block seats. Set aside seating for staff, press, and crew so they won't be available for purchase by the public. Release them with a single click if they become available.
Socially distant seating. Ensure a safe distance between groups of attendees. We can create reserved seating plans in accordance with your state's guidelines.
Flexibility. Have reserved and general admission sections? We can handle that! Put a premium on your most sought-after seats and allow general-admission sales to maximize your venue capacity.
Custom marketing products. Create and print branded sales and marketing products, such as tickets, posters, wristbands, and more to manage and sell your games and events. Team managers will be able to customize the products they need with the date, time, location, and other details while your organization's brand remains intact.  
Branded merchandise. Offer fans the team gear they want—including custom t-shirts, hoodies, mugs, and more—on a private-label merch site.
Fundraising. Support your team through an on-brand, private-label fundraising site. Volunteers and managers can create ancillary pages to raise money in conjunction with games. Features like text-to-give enable fans to contribute in real time at the game. 
Easy email marketing. Send and receive contact lists between popular email services like Mailchimp and Constant Contact so you can communicate with fans.
Ticket Bundles
Sell a weekend bundle or any ticket plan you choose. Creating custom ticket packages by combining tickets is a snap.
Event dashboard
Review ticket sales, manage events, view event analytics, and more—think of it as your virtual control panel!
Promotion tools
Reach fans easily and efficiently—we've got built-in tools and integrations for email, text, and social-media marketing.
Check-in scanner
Access our mobile ticket scanner directly from the guest list in your dashboard
Ticket sales widget
Promote single or multiple events on your site, hassle-free. Your embeddable calendar of events automatically updates when changes are made from your dashboard. 
Sales At The Door
Accept cash or credit card sales in real time anywhere with an internet connection right from your browser—no app required!
Social sharing
Spread the word with every ticket sale! After purchasing tickets, attendees are automatically prompted to share your event.
Discount codes
Create discount codes that ticket buyers can enter during checkout to get a discount on tickets.
Ready to get started? We'd love to show you the platform!